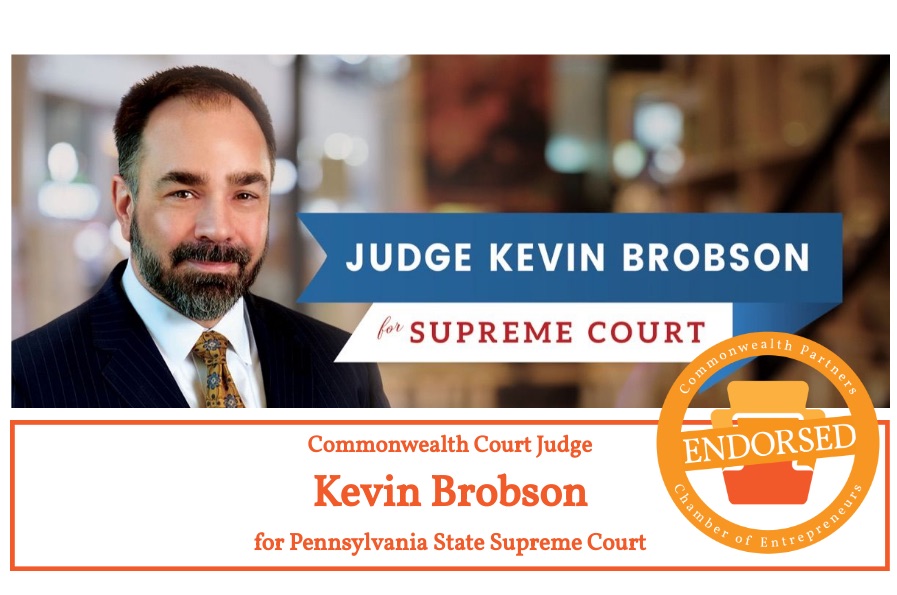 CP Endorses Judge Kevin Brobson for Supreme Court
HARRISBURG, April 5, 2021—Today, Commonwealth Partners Chamber of Entrepreneurs, a membership association representing employers and employees across Pennsylvania, endorsed Commonwealth Court Judge Kevin Brobson for state Supreme Court.
"Throughout his tenure on the Commonwealth Court, Judge Brobson has demonstrated his thoughtful and objective approach to hearing and deciding cases," said Commonwealth Partners President and CEO Matt Brouillette. "He has proven himself a firm believer in the rule of law and a strong advocate for upholding laws as they are written."
Brouillette continued: "Recognizing the important role of the judiciary, Judge Brobson has been willing to take on tough cases while avoiding the pitfall of conflating the judicial and legislative branches. Judge Brobson has earned the respect of his colleagues, as demonstrated by his recent election as President Judge of the Commonwealth Court, and we are confident he would bring the same professionalism and integrity to the state Supreme Court.
"Judge Brobson is the only Republican candidate for Supreme Court who is both electorally viable and not beholden to special interests. Given his exceptional qualifications and high regard for the law, we are pleased to endorse Judge Kevin Brobson for state Supreme Court."
Matt Brouillette is available for further comment. Contact Gina Diorio at gina@thecommonwealthpartners.com or 862-703-6670 to arrange an interview.
# # #
Commonwealth Partners is an independent, non-partisan, 501(c)(6) membership organization dedicated to improving the economic environment and educational opportunities in Pennsylvania.