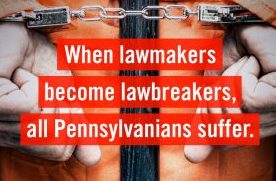 Oral Argument Scheduled Sept. 13 in Wolf Budget Lawsuit
News Release —The Commonwealth Court has scheduled oral argument, sitting en banc, in the lawsuit seeking to hold Gov. Tom Wolf and the Pennsylvania General Assembly accountable for violating the state constitution's balanced budget requirement.
WHAT: Oral Argument in Brouillette, et al. v. Governor Thomas Wolf, et al.
WHEN: Thursday, September 13, 9:30 a.m.
WHERE: Pa. Judicial Center, 601 Commonwealth Avenue, Harrisburg, Courtroom 5001
The lawsuit, filed in September 2017 by Commonwealth Partners President and CEO Matthew Brouillette, state Rep. Jim Christiana (R-Beaver) and Harrisburg-area small businessman Ben Lewis, asks the court to enforce the state constitution's mandate that spending not exceed revenues.
"For two straight years, Gov. Wolf and the General Assembly violated our state constitution's balanced budget requirement by enacting unbalanced budgets," Brouillette commented. "Even now, our current budget may soon be out of balance as Gov. Wolf restarted an old program that is not funded in the state budget, unilaterally adding spending that could amount to $150 million per year—again, with no way to pay for it."
In 2016, Wolf and the General Assembly allowed an unbalanced budget to become law in violation of the state constitution (Article VIII, Section 13), the Administrative Code, and Gov. Wolf's own Office of the Budget. Throughout the ensuing fiscal year, Wolf refused to freeze or reduce spending even as revenues continued to fall short of projections. Then, last year as the state faced a $1.5 billion budget shortfall, Wolf again allowed an unbalanced budget to become law.
Furthermore, in reaction to a recent legal decision, Gov. Wolf ordered the reinstatement of the state's General Assistance Program, notwithstanding that the court gave no directive to restart the program. Wolf's action could cost the state $150 million annually, even though his administration has admitted funding may not be available in the current budget to pay for the program.
"Our constitutional balanced budget requirement is not optional, and Gov. Wolf and lawmakers must not be allowed to treat it as such with no consequences," Brouillette continued. "Gov. Wolf and lawmakers have proven themselves unwilling to abide by the law, so it's time the court step in and require them—and future governors and lawmakers—to do so."
In addition to Gov. Wolf and the General Assembly, the lawsuit names Auditor General Eugene DePasquale and Treasurer Joe Torsella as defendants for enabling deficit spending and unconstitutionally loaning monies to the General Fund.
In December, the Commonwealth Court rejected attempts by the governor, treasurer, auditor general, and Senators Jake Corman and Joe Scarnati to have the case dismissed. In her decision, Judge Renée Cohn Jubelirer wrote, "[T]here are sufficient legal and factual issues that remain in dispute, such that this Court cannot find Petitioners' constitutional claims moot."
The upcoming oral argument will center around additional preliminary objections filed in the case by Gov. Wolf, et al.
Related
Legal Documents
Matthew Brouillette is available for comment. Please contact Gina Diorio at gina@thecommonwealthpartners.com or 862-703-6670 to arrange an interview.
# # #
Commonwealth Partners is an independent, non-partisan, 501(c)(6) membership organization dedicated to improving the economic environment in Pennsylvania.