Get News & Brews in your inbox each day: Subscribe here!
Pro-life v. pro-abortion stakes rise in state-level races with SCOTUS leak
If the U.S. Supreme Court overturns Roe v. Wade, PennLive
observes
, "No longer will state-level candidates be talking about the abortion issue in the abstract, offering up position statements that in reality could go no further than tinkering at the margins of settled precedent. Rather,
they will be running on the very real battleground of an abortion hot war, with the real chance of making seismic changes to abortion law depending upon election results
."
WSJ: Pittsburgh follows failed Portland path
Pittsburgh gets an unfortunate
call-out
from the Wall Street Journal Editorial Board, which notes the city council recently voted "to expand the city's inclusionary zoning requirements."
The aim is to increase affordable housing, but the same experiment in Portland led to less affordable housing.
"Now," the Journal writes, "Pittsburgh is following Portland's folly, and families will pay for how politicians distort the housing market."
Read more here
(paywall).
GOP candidates on bridge tolling
When it comes to plans to toll up to nine interstate bridges around Pennsylvania, several Republican candidates for governor have asserted their opposition to the plan.
PennLive
reports
that Jake Corman, Charlie Gerow, Melissa Hart, and Nche Zama have come out against tolling the bridges (while attempts to reach the rest of the GOP field weren't successful). Read the PennLive story
here
.
PA chamber gets new president
Yesterday, the Pennsylvania Chamber of Business & Industry
announced
that
Luke Bernstein will be the group's new president and CEO
, succeeding Gene Barr, who announced his retirement last year after nearly 20 years with the chamber. Bernstein is currently a senior vice president and chief communications officer and director of Orrstown Financial Advisors. He previously served as senior VP of external affairs with the Pennsylvania Bankers Association and as deputy chief of staff to former Gov. Tom Corbett. We wish Mr. Bernstein all the best in his new role.
'Blue states crushed their businesses'
The good folks at the Committee to Unleash Prosperity shared the below chart (from data tracked by
OpenTable.com
), which shows that "[v]irtually all of the fastest comebacks [in restaurant sales] have been in the cities in red states. Almost all of the steepest declines have been in blue cites and states."
You'll note Philly ranks near the bottom and Pittsburgh is also still showing a loss.
(Can't see image?
Click here
.)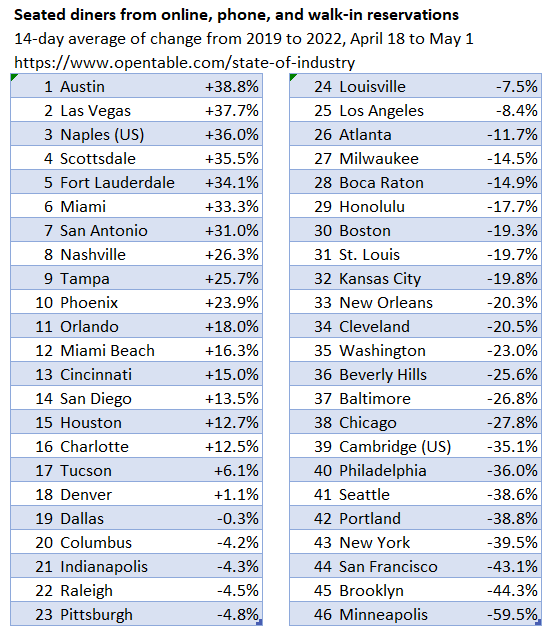 Sign up to get News & Brews in your inbox
Sign up for updates