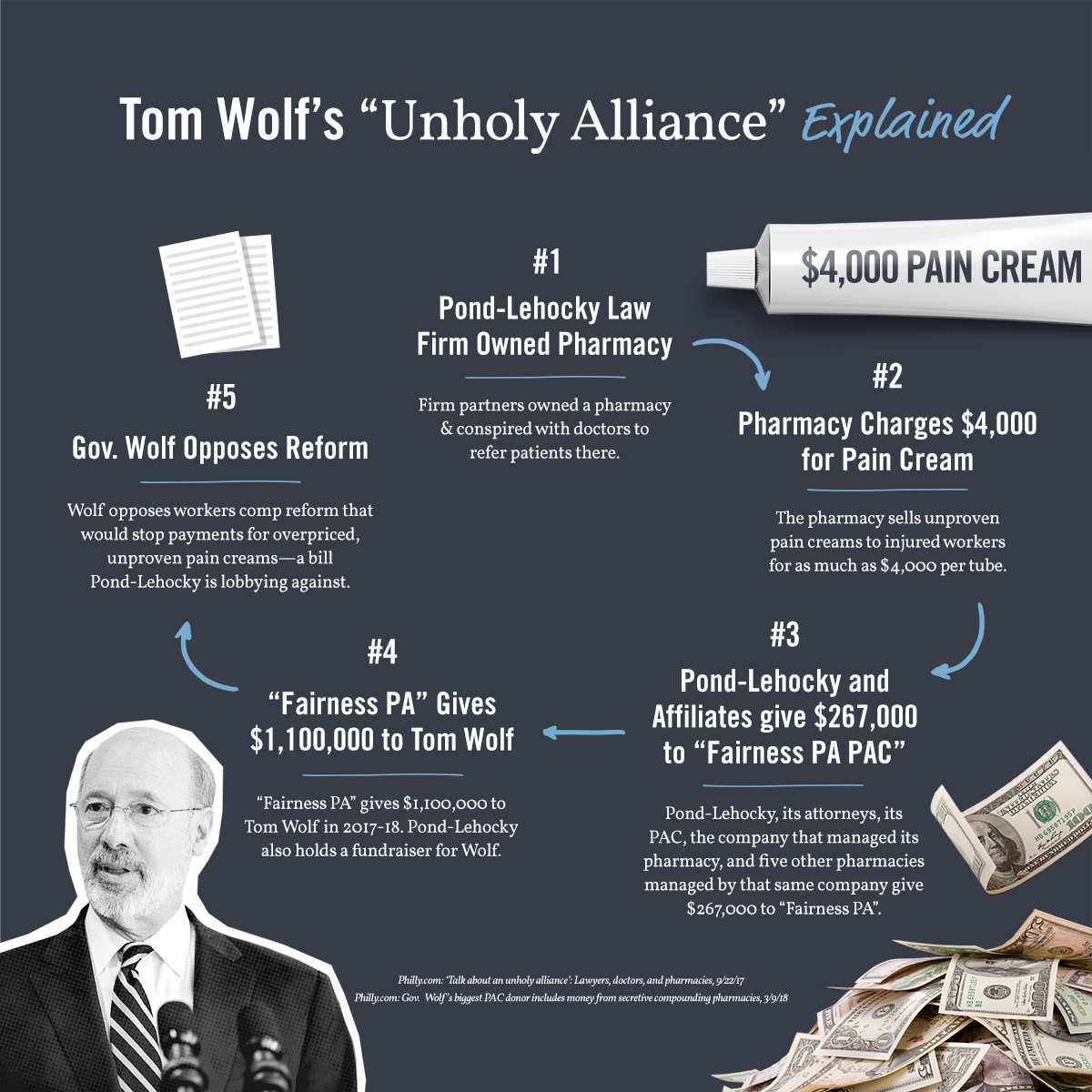 Wolf Sides with Special-Interest Donors, Vetoes Opioid Bill
HARRISBURG, April 27, 2018—Today, Gov. Wolf vetoed a bill that would have addressed opioid over-prescription by implementing an evidence-based prescription drug formulary for the state's workers' comp program.
The move comes after Wolf accepted $1.1 million in campaign contributions tied to an "unholy alliance" of lawyers and doctors who charged injured workers up to $4,000 for unproven pain creams and may have contributed to opioid over-prescription. The lawyers behind this money were among the fiercest opponents of the legislation (SB 936).
Additionally, Gov. Wolf's official schedule shows Wolf visited Pond-Lehocky's offices (2005 Market Street) in Philadelphia for a "political meeting" on April 17—the day after SB 936 passed the House.
"Is Gov. Wolf putting Pennsylvanians first, or is he simply doing the bidding of his highest donors," commented Matthew Brouillette, president and CEO of Commonwealth Partners Chamber of Entrepreneurs. "This commonsense reform should have been an easy 'yes' for Wolf. Instead, he put his political fundraising ahead of good policy and sided with his big-dollar donors lobbying against this bill. It makes you wonder, who is Wolf really working for?"
Connecting the Dots
Wolf's campaign finance reports show that since June 2017, he has accepted $1.1 million from "Fairness PA," a political action committee (PAC) which a Philadelphia Inquirer investigation exposed as "a channel for doctors and lawyers who own pharmacies to put their campaign contributions to use." This past year, no single donor gave more to Wolf than "Fairness PA".
Among the most prominent of the lawyers connected to "Fairness PA" are those tied to the Philadelphia firm Pond-Lehocky, which specializes in workers' compensation cases.
Last year, an Inquirer and Daily News investigation revealed Pond-Lehocky orchestrated a scheme in which the firm teamed up with preferred doctors who prescribed outlandishly priced pain creams to injured workers. Pond-Lehocky sent its clients to these doctors and asked the doctors to send the clients to Workers First, a pharmacy that was majority-owned by Pond-Lehocky partners and CFO, to have their prescriptions filled.
Meanwhile, Pond-Lehocky has been leading the opposition to SB 936. And in 2017 alone, Pond-Lehocky, its attorneys, and companies connected to it gave $267,000 to "Fairness PA," which in turn gave $1.1 million to Wolf.
Matthew Brouillette is available for comment. Please contact Gina Diorio at gina@thecommonwealthpartners.com or 862-703-6670 to arrange an interview.